When you're looking to finance a luxury vehicle, it's best to turn to an industry expert to ensure you're getting the best financing solution, the most competitive price and the right vehicle for your goals. This is all the more reason to turn to Labadie Cadillac, a trustworthy car dealership staffed by highly experienced auto financing and sales professionals. Let us help you navigate the car-buying process, so you can relax and enjoy every moment of upgrading your ride.
Have questions about auto financing? Before your stop by our Cadillac dealership in Bay City, you can check out our list of FAQs, asked often by customers and responded to by TJ Horner, Executive Manager at Labadie Auto Co. Our goal is to educate you on the auto financing process, so you can make an informed decision and shop confidently.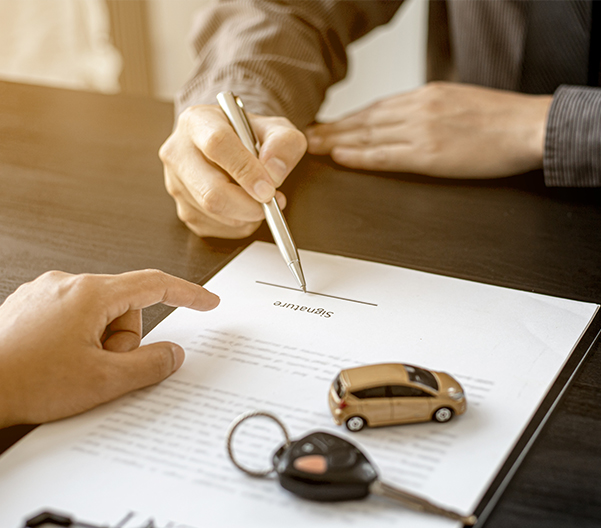 Cadillac Financing FAQs
How much of a down payment do I need to finance a car?
For financing, it may not be necessary to put any money down to finance a car or your lender may require you to put a certain percentage down. Putting down 10% is common, which will decrease the amount of interest you pay, and lower your monthly payments.
What additional costs will I be responsible for when buying a new car?
Any new car financed will have tax, title, and documentation fees. These fees are controlled by the state and have minimums that are required by law to charge.
How can I find the value of my trade-in?
We have tools on our website to estimate your car's trade-in value. For the most accurate assessment, we recommend scheduling an appointment for an in-person used car appraisal. Value your trade-in today to get started.
Does my credit score impact my loan rate?
Yes. Financing institutions look at credit to determine your financing rate. If you have a low credit score or no credit, not to worry, as we work with all types of credit.
I have a low credit score -- can I still finance a car?
Yes. Labadie Auto Co. works with over 30 lenders to be able to provide as many people the opportunity to finance as possible. We work with all types of credit and are happy to assist you.
I don't have a credit history yet -- can I still finance a car?
Yes. If you are a recent college graduate, there are programs for first-time car-buyers. You can have someone cosign (which is just an easier way to say back you up financially), or we can assist you using one of our many lenders that work with all types of credit.
What's the best length for a car loan?
The best length of a car loan is what works best for your budget. The shorter you pay on a vehicle, usually the less interest you pay and the faster you are free of a car payment. However, paying for a car in cash or financing for 36 months isn't an option for everyone, which is why we offer multiple term options to ensure you are able to get the car you want at a payment plan that works for you.
Can you offer a better interest rate than my pre-approved rate?
We can certainly try. We work with over 30 lenders and can instantly shop those lenders for the best rate. If we can beat your pre-approved rate, great. If not, you know you have the best rate you can get.
Can I reduce my monthly car payments down the road?
Absolutely. Through our trade-in program, we are constantly looking at the equity you have in your vehicle. If you want to look into a new Cadillac down the road, we can see if we can beat your current payment through new incentivized rates and your vehicle's equity to get you into a new vehicle at a lower payment. You also have the option to refinance, which can sometimes lower payments.
Can I sell my car while I'm still paying it off?
Of course. Keep in mind, however, you are still responsible for the amount you owe on your vehicle. If you owe $10,000 on your car and you sell it for $8,500, you are still responsible for the remaining $1,500 in payments.
Can I add a warranty when I buy a car?
Yes, and we think it is a great idea to do so. We have many offerings, from full warranty coverage to powertrain and even prepaid service. With how complex features are getting, like Apple CarPlay® and Lane Keep Assist, it's no wonder that the cost to fix those features can be expensive. With an extended vehicle warranty, you can have peace of mind that your car is covered.
Eager to learn more? Contact Labadie Cadillac and a member of our auto finance team will work with you to determine the best payment plan for your needs. Whether you choose to buy vs. lease a car or you have questions regarding credit score and APR, we're here to help.